Today is my last day here in Ho Chi Minh City (HCM). It's been so much fun. I've eaten ridiculous amounts of good food, drank more Vietnamese coffee than is recommended, and explored the city on motorbikes daily.
Lifestyle
I've been living pretty well here in HCM. Here is what a typical day of spending looks like for me:
Morning
Wake up
Drink bottled water
Get a Uber to breakfast
Eat breakfast, likely Pho
Find a good cafe around where I am
Order two coffees (ca phe)
Lunch
Go out for lunch (possibly getting Uber there), likely banh cuon, banh mi, or bun cha
Either go home by Uber,
Or find another cafe for more coffee
Occasionally, get a massage or go to the movies
Evening
Another Uber to go get dinner
Eat some good food, likely banh canh cua, bun thit nuong
Go out to a bar or coffee shop for drinks
TL;DR: I eat every meal out, catch Ubers around everywhere, "work" in cafes drinking coffee, and go out for drinks pretty much every night.
Cash or Card
I spent as much as I could on card, both because I get a better conversion rate and zero fees, but also because then I can break down my expenses. However, a lot of places (especially local places) here don't take card, so you'll need cash.
My cash expense below was basically all spent on food and drinks.
Learning: Take out more cash. I would take out $200,000 VND per day (~$11 AUD). So staying for 20 days, I would take out 4,000,000 VND when I land.
Accommodation
I was staying in nice Airbnb apartments all to myself, in pretty good neighbourhoods.
Number of nights: 19
Total: $868.27
AVG per night: $45.68
Learning: If you are staying here for more than a month, you would be way better off renting an apartment as you will pay a fraction of the price of Airbnb.
Food
I was eating out for breakfast, lunch, and dinner. Plus on average 2.5 coffees per day.
Note: I went out with friends a lot, so this price is slightly inflated due to covering a few bills.
Total food spending:
$233.11 (on card) ****
+ $237.70 (all cash, which was nearly all food)
+ $47.44 (drinks)
+ $70.61 (coffee)
= $588.05 AUD
AVG spend per day: $29.40
AVG adjusted spend per day: $20.60 (deducting a couple of expensive feasts)
AVG cost per meal: $6.88
To be honest, if you're not going out as much as I was, I would estimate that you're more likely to hit an average meal cost of $3.34 AUD (50,000VND)
Eating and drinking well in HCM cost me $20/day. I think you could get it as low as $12/day if you're going cheap.
Transport
Getting around in HCM is all about that Uber/Grab motorbike taxis. They pick you up at your door and drop you off wherever you have picked.
Number of trips: 44
Total: $40.39
AVG trip cost: $0.92 (more like $0.72 when you exclude airport trips)
Local tip: keep an eye on where they are going, some of them get lost and need help with directions 😊
The full breakdown
Here's a breakdown of my expenses: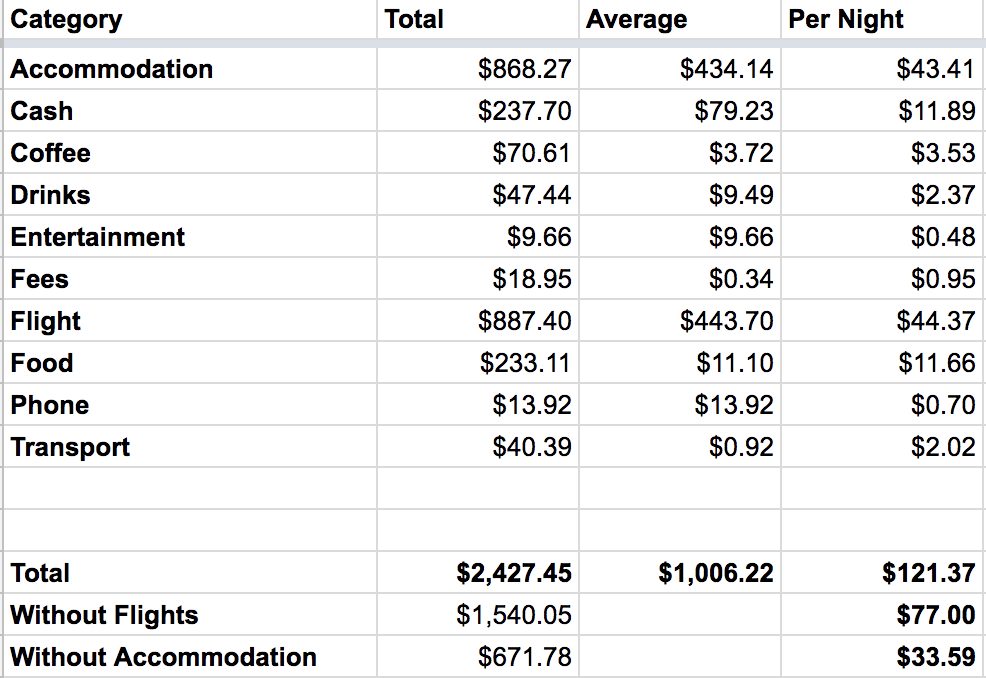 My expense breakdown can be found online here.
Accommodation: $868.27 ($43.41 AVG per night)
Flights: $887.40 (Sydney → Saigon → Cambodia)
Uber/Grab: $40.39 ($0.92 AVG trip cost, 2 trips per day on average)
Food: $233.11 ($7.31 AVG meal when excluding an $86.97 seafood feast I had 😁)
Cash: $237.70 (this is really just food too)
Cash Withdrawal Fees: $18.95 (*8% of withdrawal amount!!!)
Bar/Drinks: $47.44 ($4.75 AVG price per drink)
Coffee: $70.61 ($2.86 AVG coffee price)
Entertainment: $42.66 ($16.00 AVG massage price)
Phone: $13.92 (unlimited 4G data with cell number)
---
Daily Expenses: $671.78 ($33.45 per day, excl. flights and accommodation)
Daily Expenses + Accommodation: $1540.50 ($77.20 per day)
Grand Total: $2427.45 (incl. flights)
** My 28 Degrees credit card wasn't working when I landed 😑 meaning I had to use my normal credit card, racking up the fees. Not to mention, some of these fees were from the local ATMS.*
Visiting HCM and living pretty comfortably cost me $77.20/day (AUD) including accommodation. I think if you're going cheap and not renting through Airbnb, you could get it down to $30/day.
Here's someone who's done that.
Here is a google sheet with a full breakdown of all my credit card expenses while in Ho Chi Minh.